JOURNEY into ENLIGHTENMENT
Spiritual Growth and Inner Knowledge / Wisdom
ABN Number:- 98 459 613 414
| | |
| --- | --- |
| Posted on January 5, 2015 at 4:25 PM | |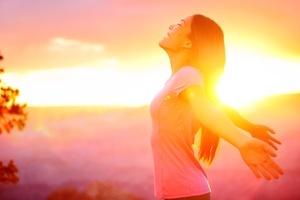 Outer Layer of Thought – Thoughts Becomes Things
The outer layer are the thoughts that create our future. This is where we use the idea that our thoughts become things. By using the power of this level of thought we can truly create a reality that reflects our dreams and heart felt desires. Of course we add action, visualization and more action, but it is at this level of thought that we begin the creative process.
Middle Layer of Thought – How We Respond Matters
The middle layer includes thoughts we have in response to life events. This is where we understand that it is not what happens to us but the way we respond that's important. I used to think that my happiness was tied to my capacity to cope and if I could learn ways to 'cope better' then I would feel a great sense of self worth and peace of mind.
[Check Out — 6 Vital Lessons to Learn...and #PassOn to Others]
Inner Layer of Thought – Self-Perception
The thoughts we have at this layer of thoughts come from our perception of ourselves and it is the lens that we choose to perceive ourselves that will determine our happiness or our despair.
If we choose a self critical lens then we will hear a running commentary of thoughts that go something like "I should not still be grieving, he's been dead now for three years." or "I can't believe that I didn't handle that meeting very well."
If we choose a lens that is compassionate toward ourselves then we will more likely to have thoughts such as "I did the best I could at the time based on what I knew and my best was good enough." And that kinda feels a whole lot nicer doesn't it?
I am grateful to the souls for the wisdom they shared with me. I now understand that we can nurture ourselves when we perceive ourselves through a compassionate lens. To live this way is easy and it is a matter of taking 3 simple steps.
Step 1 Become aware – Begin to notice the thoughts that are self critical about the way you are coping or not coping like, "I should not be feeling sad/angry/upset about (insert situation here)." Open your journal and for each thought that is self critical, identify and write down a more compassionate way to view your response to the situation. "I should not have been angry at the kids," could be replaced with, "Feeling frustrated is normal when you are a parent and all parents feel angry sometimes."
[More — Making a Difference: A Unique Spin on Giving Back]
Once you've done this exercise a few times on paper then you will find it easier to use this new way of identifying and changing your thoughts.
Step 2 Appreciate your innocence – When faced with a situation that you did not feel you handled well, ask yourself one simple question: Based on what I know so far is there any way that my response to the situation is understandable? The answer is always 'yes' because we will always take action based on the knowledge and resources we have available to us at the time.
Step 3 Nurture your self-perception with compassion – Using the power of visualization, find a quiet place and create an image in your mind of the three layers of thought. Use an example of a situation where you are criticizing yourself. See the three layers of your thoughts and as you focus upon the layer of thought that is closest to you – the thoughts that relate to your perception of yourself in this situation – notice the thoughts are resting on a bed of compassion, understanding and kindness.
Notice that the only thoughts that exist here are gentle and full of understanding about yourself and your life circumstances. If you see a thought that is critical, notice it and visualize another compassionate thought sitting along side it. Over time the compassionate thoughts will grow stronger. Repeat this for 5 minutes each day for 30 days and you will begin to notice the difference.
Categories: None
/