JOURNEY into ENLIGHTENMENT
Spiritual Growth and Inner Knowledge / Wisdom
ABN Number:- 98 459 613 414
| | |
| --- | --- |
| Posted on December 9, 2018 at 6:35 AM | |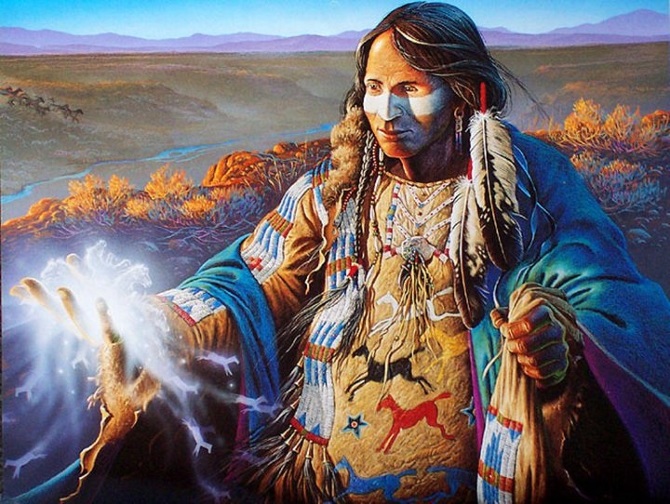 Journey Into Shamanism
After meeting Ty Walking Deer before commencing his Spiritual Workshop, I was so excited to start learning that I was counting the days down to Tuesday night. The days couldn't go quick enough! Finally, Tuesday night arrived and I was at Ty's doorstep, knocking on the door, ready to start my spiritual journey. Ty came to the door and greeted me with a hug and gestured for me to go through to the living room of his house, where I was introduced to Dave, whose face was very familiar, a mother and daughter from Brisbane and joining us later was Kylie from Caboolture. Dave turned out to be very familiar, as when I talked to him it came to me that Dave had supplied me with polo shirts with a logo for my business years ago, and he had left me with a good memory of him being very helpful, fair and considerate-a good soul.
So everyone introduced themselves and the night kicked off with Ty explaining about auras and how to see them. Next we all had a go at viewing one person at a time and reporting what we had seen. Great stuff! Of course, what each person saw varied but we all had a good experience and we had made a start to help us see more in the later weeks. Some reported seeing colours, from gold, blue, green or a thin off-white aura around the body or spots in the body that had a specific colour.
At the end of the night, we all sat around, became comfortable and did a meditation, guided by Ty. The lights were turned off, so the only light was from a candle, incense was burning, and relaxing music was playing to help achieve that meditative state. Ty introduced us to the chakra meditation, connecting to each chakra from the 1st chakra to the 7th chakra. For me connecting to the chakras, seeing the colour of the chakras, came quite easily and I could feel myself being taken to a deep space of relaxation, while listening to the soft tone of Ty's voice. I was in another space when I heard Ty 's voice calling out my name and asking me to open my eyes and look at him. It was very difficult to leave that relaxing space, but I opened my eyes to see Ty staring at me with such intensity, it felt as though he was looking into me. How right that feeling was, I later found out.
As I looked into his eyes, he said to me " Don't blink, don't shut your eyes". Well let me tell you, I couldn't have shut my eyes if I wanted to, such was the intensity. My eyes started to burn and water, I felt uncomfortable but I continued to stare at him. It was then that something strange happened. As I stared at him, he started to become less clear, he was disappearing in front of me, becoming darker and darker, until in a second he was gone. I couldn't see him anymore and I was only a couple of metres away from him. I remember shaking my head, a couple of times, he appeared then he was gone again. It blew my mind away! How did he do that? Did I imagine what had just happened or more alarmingly, what if what I saw was real and did occur. Now that would challenge your beliefs. Ty asked me to close my eyes to my relief, as my eyes were truly burning from not blinking and holding that intense stare. My mind was going into overdrive, trying to work out what had just happened. Next I heard Ty call to Dave to open his eyes and I knew what was going to greet Dave, that intense "stare", and I wondered how Dave was handling it.
Ty went around the group, doing the same staring (later I would find out that it was called "shape-shifting") and you would hear him asking people to open their eyes or to look at him. Then we all came out of the meditation, still in a "out of it" state. I asked about seeing him disappear and Dave mentioned that he had had the same experience. Ty said that it certainly was real, that what we had seen did happen, and he explained that he didn't warn us before the meditation as he wanted us to truly experience the "disappearance" and not have any preconceptions of what it might be like. Well, he achieved that goal! It left me with a sense of disbelief, but I was excited by what I had experienced and eager to experience it again. Dave was more analytical and asked questions that seemed to make him more confused. He agreed that he had seen and experienced Ty disappearing but there was a big "but" that couldn't be satisfied.
The next week, I was looking forward to the next thing to learn and when I met Ty, I commented on last week and the meditation where he disappeared, to which Dave said that it didn't happen. That Ty had tricked him into believing that it had happened, that there was a logical answer to what had happened, he must have fallen asleep and dreamed it. And so he went on dismissing what he had experienced. Ty drew his attention to the week before, and how he had agreed that it had happened on the night and now after a week, he had turned what he had seen into falling asleep or being tricked. He wouldn't have it any other way.
On the night I couldn't fully understand why he had taken such a determined stance, but later with Ty's help and guidance, it became clearer. Daves mind had turned what had happened that he agreed had happened on the night to one of being tricked or not happening at all. That's how strong the Mind can be, but also, it challenged all that Dave believed in, being analytical, he had difficulty in trusting what he had experienced. Better to go with what he knew. The comparison with me couldn't be more different. Although I had disbelief at the moment it happened by shaking my head, thinking that would create normality, I had accepted what had happened and was excited by what next we would do. I was open to all that might be. It was a good lesson in how powerful the Mind is, and how if we allow it, the Truth can be taken away from our True Path. When you trust and believe, all the possibilities and opportunities will come forward to you from Spirit, don't deny them and your future fulfillment will be yours to live.
If you enjoyed this blog, look for further excerpts from "Journey Into Shamanism".
Categories: None
/